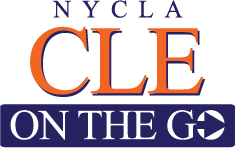 Need to get your CLE credits but don't have the time? NYCLA CLE ON THE GO offers CLE courses via MP3 Audio format. Just purchase one of the courses below in MP3 format, download it to any listening device and it's ready to go.
Listen to your program on the subway, while you wait for the bus or at the gym! Taking a walk? Knockout some CLE Courses while you're ON THE GO!
Bookmark this page (PC users press CTRL+D; Mac users press Command+D) as we will be constantly adding more titles.
Effective January 1, 2016, newly admitted attorneys who were admitted after 1/1/2014 may satisfy their Professional Practice and Law Practice Management requirements ONLY by taking classes in any format – live, DVD/CD, On-line, MP3 or webinar. For more information go to http://www.courts.state.ny.us/attorneys/cle/index.shtml